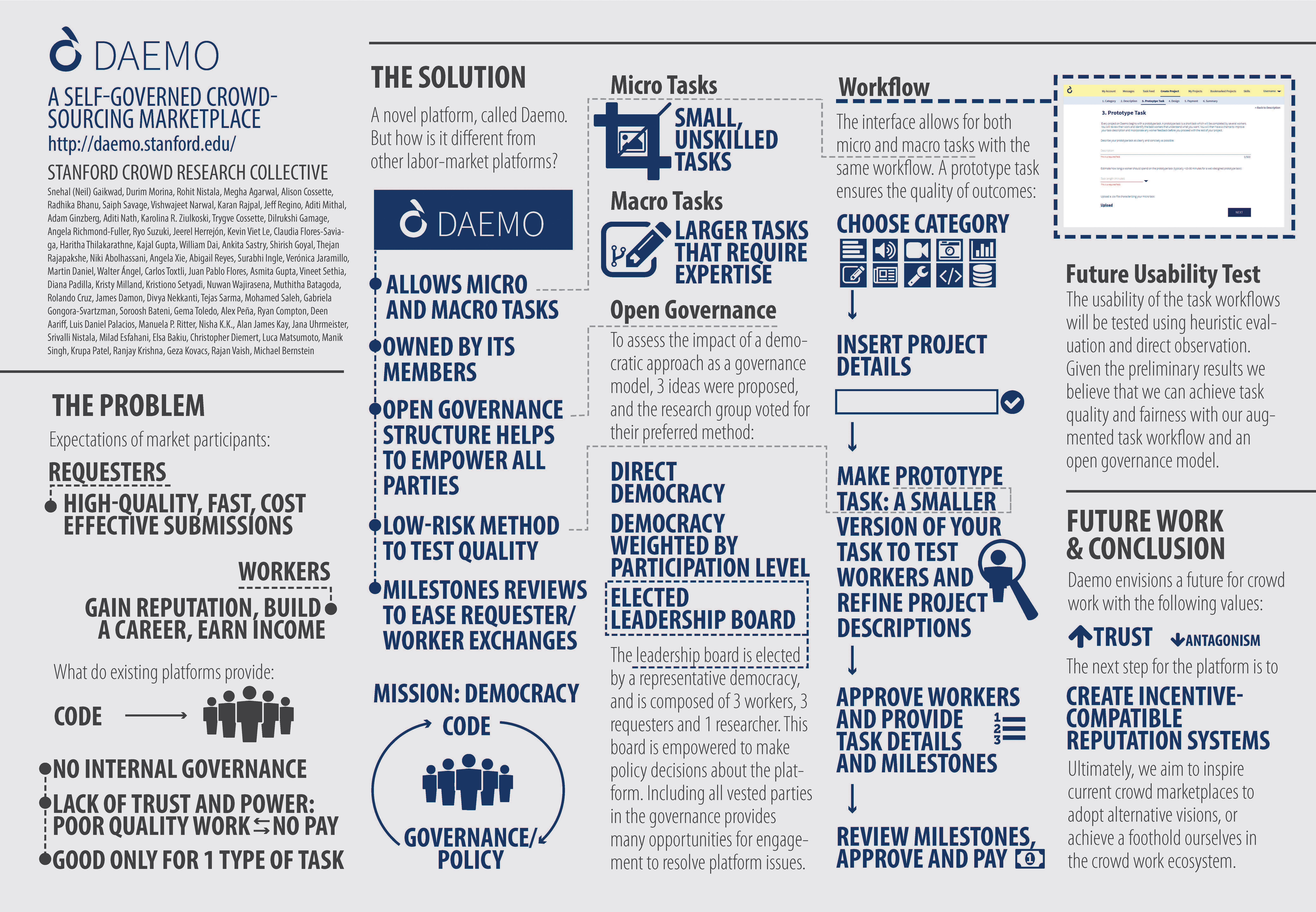 ENGLISH

Daemo is a platform for crowdsourced work developed by Stanford Crowd Research, an initiative of the Human-Computer Interaction Lab at Stanford University with over 500 participants from many countries. I'm a co-founder and acted as head of design, responsible for design and UX design, and led a team of 50+ volunteer designers from all over the world. We tested existing platforms for crowdsourced work, interviewed requesters and workers and developed a new platform that addressed the issues faced by all users. The first version can be accessed here.
Published papers at UIST and CSCW, 2 of the 3 top HCI conferences.
Finalist at the Knight Challenge 2015.


PORTUGUÊS

Daemo é uma plataforma para trabalho crowdsource desenvolvida pelo grupo Stanford Crowd Research, uma iniciativa do Laboratório de Interação Humano-Computador da Universidade Stanford com mais de 500 participantes ao redor do mundo. Como co-fundadora e líder da área de design, fui responsável pelo design gráfico e de experiência do usuário, and liderei um time de mais de 50 designers voluntários de diversos países. Testamos as plataformas existentes e entrevistamos requesters e workers, e desenvolvemos um sistema que atende a todos os usuários. A primeira versão pode ser acessada aqui.
Artigos publicados na UIST e CSCW, 2 das 3 maiores conferências de HCI.
Finalista do Knight Challenge 2015.